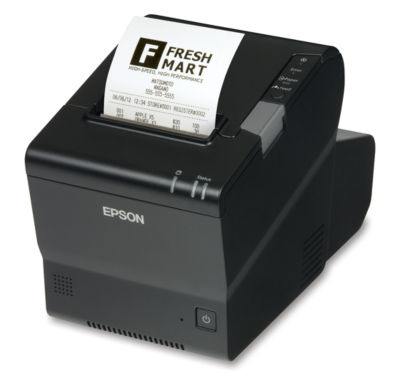 Walk into any retail environment and you can see the retail transformation taking place. It is being driven by the consumer, how they shop and the mobile devices that they use. I do it myself. I find a product in the store and then use my smart phone to shop for the best price, search for an immediate coupon, etc. The question is: how will retailers and technology manufacturers respond to this transformation?
Epson America has answered with the NEW! OmniLink Solutions. Mobile. Smart. Connected.
The OmniLink product is on the cutting edge of technology change and will allow retailers to take advantage of how consumers are shopping, while providing enhancements to their levels of service.
Epson has taken the reliability and performance of their TM printers and added intelligence expanding functionality. The entry-level product can print from any mobile device and is a gateway providing direct connectivity to the Cloud and access to loyalty program, couponing and real-time analytics.
The upper tier OmniLink can print from any mobile device and can also drop into and work seamlessly with existing POS systems, providing a smaller footprint. It is a quick and cost-effective enhancement or alternative to the standard POS station.
The OmniLink allows retailers to protect their legacy POS investments while gaining access to the technology changes seen in the market. Point of Sale needs to more. It needs to provide a better service and customer experience.